Shadow Work Portraits
Katie Blackwell, RN, BSN, ARTIST
Welcome! My name is Katie and I am a Nurse, and an Artist, occasionally I combine the two. This year my focus has been on painting my fellow Health Care Workers through the Pandemic. This acts as a unique time stamp of your place in history, but also a forever reminder that you are a badass, that you are empowered by simply getting up in the morning and doing what you have put yourself on the path of doing, that just by going to work everyday, you truly make a difference in the lives around you.
This year has sucked in many ways. It helps to remember all of it. The good, the bad, the ugly and the baddassery. This is a good metaphor for how I paint. When I paint a subject, I replicate only what is in front of me, no judgment, just observation. People often tell me how beautiful and full of life my portraits are...that is because YOU are beautiful and full of life. I paint all of you, mind, body, and spirit. That is why my business is named 'Shadow Work' Portraits. This is a term coined by Carl Jung that perfectly expressed my process in art and the mind I strive to maintain...We are not only light but also dark and all the shades in between. In loving and accepting each layer, we can most authentically and fully be and be seen as ourselves. So let me show you what beauty I see when I see you so that you can remember what an incredible badass you are.
Along with Portrait of Health Care Workers I also have available:
This includes Merchandise options on every Print Image such as
- Tote Bags, Pillows, Phone Cases and more
My gift to the HealthCare workers this year...all year.
Purchase a Nurse Portrait NOW
at 25% off
use code RN2021 at checkout
(or other types of healthcare workers! You count too and there are too many to list!)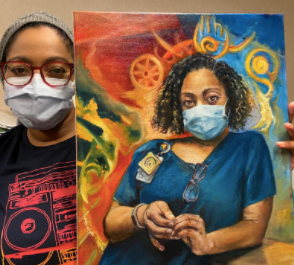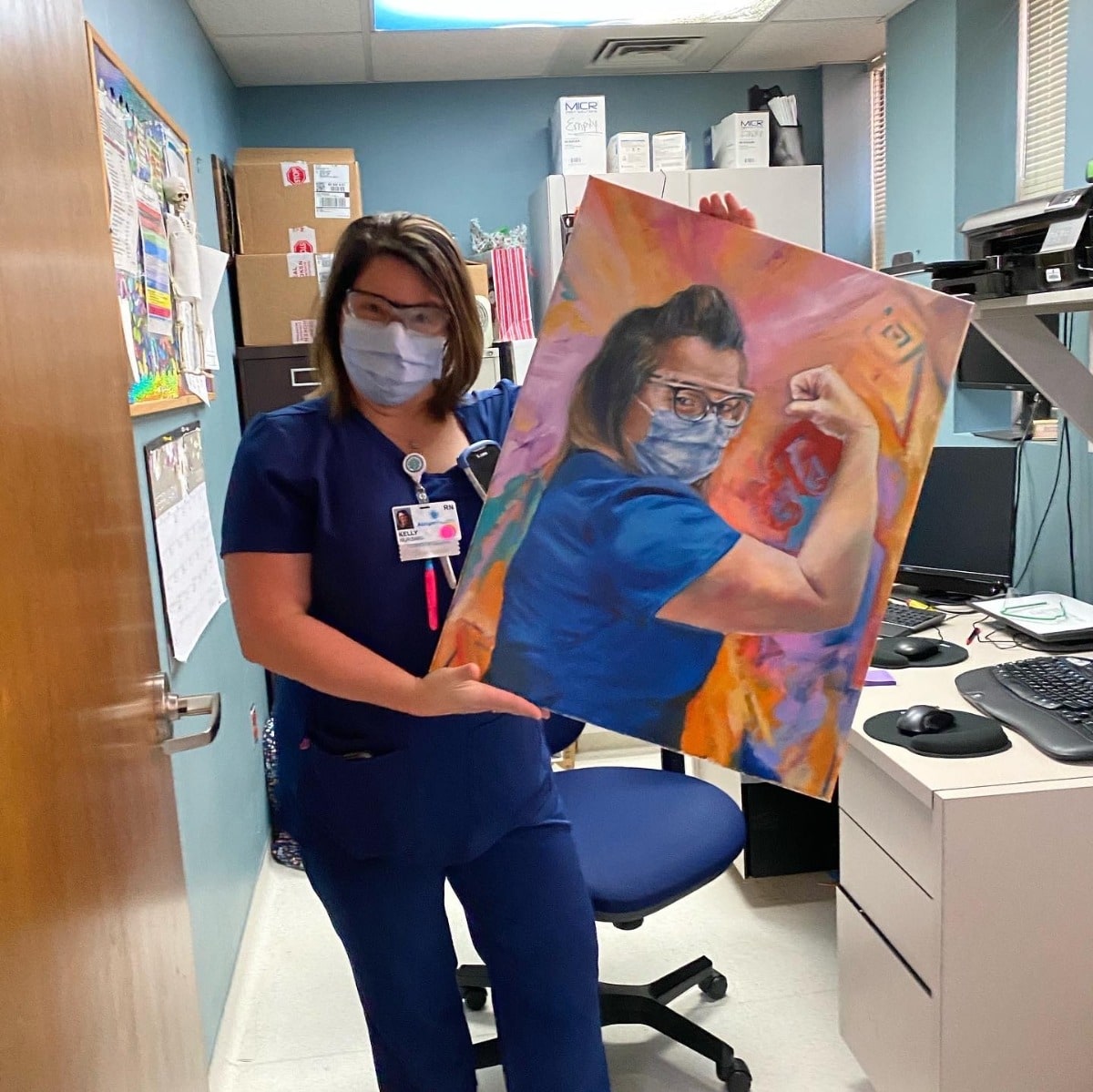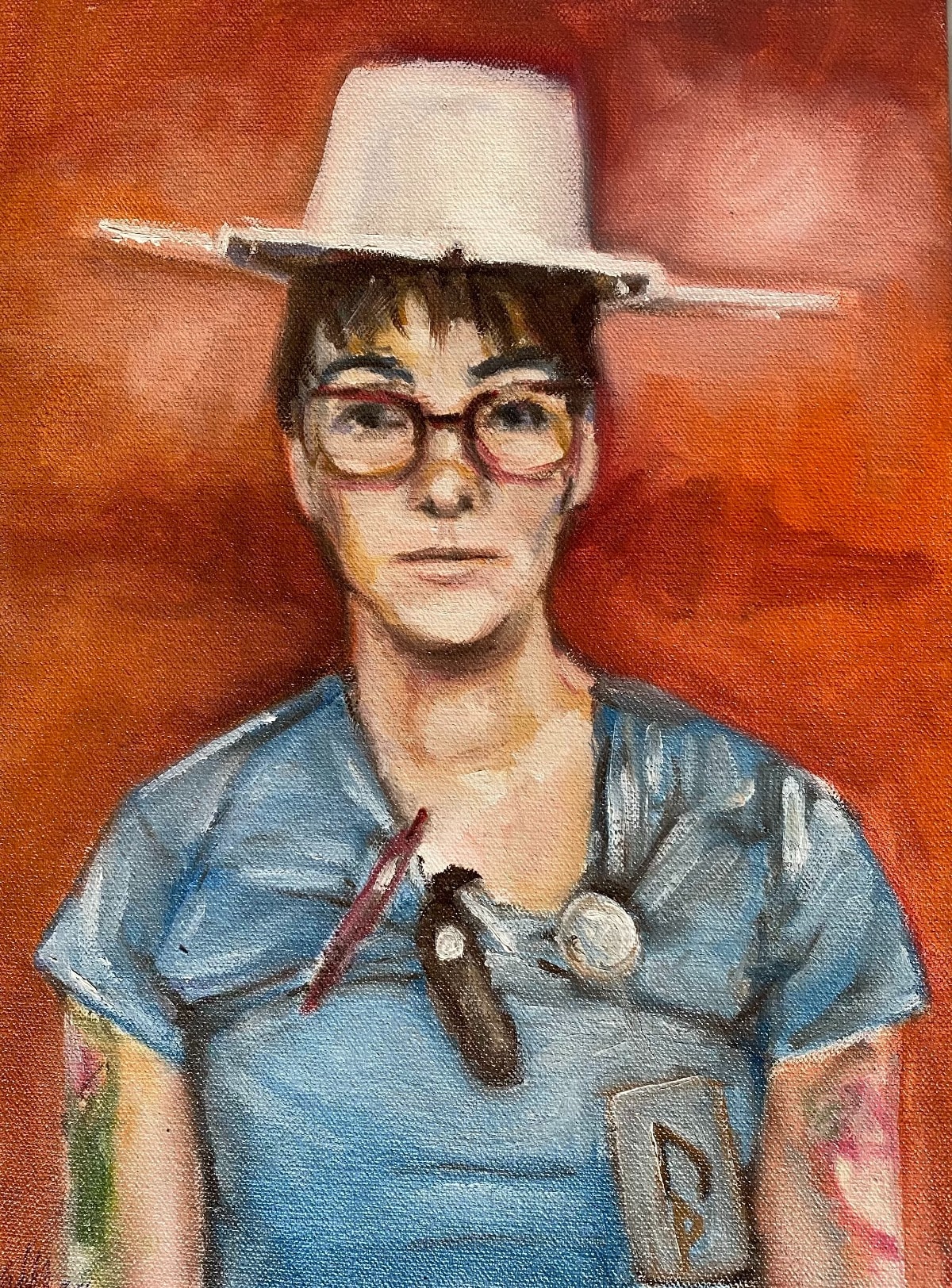 Advocating for those that advocate for you
A nurse is someone who_____
Last year I started a series titled
A Nurse is Someone who____________________ ( fill in the blank)
The purpose of this series to remind each and every one of us in the healthcare field who we are and maybe share some of this knowledge with our community at large. Though the title says " Nurse", that is simply because I am....a nurse...and what a nurse is often gets lost in translation, but the name can easily be changed to ANYONE who works in the healthcare world. We are all in this together and can all use some clarification about who we are and what we do when explaining our roles to the non-medical people of the world.
A nurse is someone who...has a life outside of the hospital.
I work in the ICU, 2-3 days a week, I work 12-14 hour shifts. I have been a RN for almost 7 years, 5 of those in the ICU, the other 2 on a super awesome step-down cardiac floor. I learned that we need to give everything we have to our patients and their families. For those shifts, the patients are in our care, we have 100% responsibility to them, nurses are in charge of every aspect of their stay. Every other employee at the hospital has to go through us to get to them, or to get information about them.
We are the eyes and ears to Doctors, the fact checkers, the drug dealers, the cheerleaders, the therapists, the waiters... we have to give everything to be everything to these patients. But what about us? If we are so busy taking care of everyone else...when do we pee? drink water? How can we take care of people so completely when we are burnt out and exhausted?

This is the question that kills me. Burnout is huge HUGE, especially now.
Who will take care of the patients when all the Nurses are gone? Respiratory therapists? They are leaving too...PT/OT/SLP...everyone is burnout.
This is not because of the pandemic, this has been a problem all along. The pandemic has only put an exclamation mark at the end of a long standing sentence.
What can we do? I can sit here and whine about it. I can do what I can at work to help my fellow nurses. I can join all the councils, the nursing associations, I can advocate for my teammates and my fellow healthcare workers around the country. I can ride a bike with no handle bars.
For now, I will do what I can, and what I can do, is help inspire those healthcare workers and nurses that need a little reminder of how amazing they are and how appreciated they are. I can paint. Therefore, here is an art series about my colleagues that push me to be a better nurse, a better advocate, and a better person.
I am an advocate for you, so you can be an advocate for them.
I paint the awesomeness of the nurses and healthcare workers in this country. If you want to support a nurse or healthcare employee in your life, message me and lets get the painting started! If you are the nurse, and you need a reminder of your badassery, message me and lets start creating some inspiration.